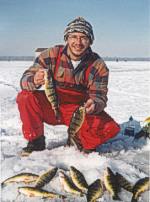 Small Holes = Big Perch – Catching Jumbos Through the Ice
by Justin Hoffman
To some people it is always a sad occasion to put the boat to bed, and bid farewell to the open-water season, knowing that it's a long time till the robin's make their return. But for me, my smile remains intact, as ice fishing is just around the corner and that means one thing – JUMBO perch. Perch through the ice is one of life's great pleasures. For many seasoned ice anglers, it is a back to basics approach to fishing; standard and simple rigs, large schools of fish and delicious fillets for the dinner table. For the beginner, it means relatively easy fishing with the possibility of 50 or 100 fish days!
By following these simple tactics and techniques, sticking to lakes that hold quality fish, and spending the time needed to find the fish, you will be on your way to bucket loads of perch and broad smiles. (And who knows, maybe you'll put the boat to bed with a smile on you face next time too.)
Where are They Hiding?
One key thing to remember when searching for perch is to keep moving. Perch gang up in big schools during the winter, and will spend the days cruising in search of food. If you can intercept one of these untouched schools, you can be sure of great fishing, as long as you give them what they want and are prepared to move with them. Your best bet to start, as soon as the ice is safe enough to venture on to, are the shallows. At the start of the hard-water season, the shallow water bite is on big time, and the fish seem almost suicidal. Your lure will hardly make it down the hole, before another hungry perch grabs your offering with almost reckless abandonment. Action like this can be hot for days or even a week, depending on how hard the shallow fish get pounded. One thing to keep in mind, is that ice fishing for perch is a popular sport, and the ice can become "crowded." If you can keep ahead of the next guy, and find an untouched school, you will reap the rewards.
Undoubtedly the time will come when the shallows will be devoid of perch. Fish will now be found in deeper, off-shore areas, yet can still be easy to find if you search for them. Begin by trying deeper water adjacent to shallow spawning areas. Another good bet is areas between islands or off of points. Perch will often be found throughout the entire water column, so it is often a good idea to experiment with depths. Unlike the walleye, which is usually found on bottom during the winter, perch will often suspend a foot below the bottom of the ice. The key here is to experiment and probe the depths, and make note how deep that first fish was caught.
A productive way to find out where the fish are, in relation to the lake, is to talk to hut operators or local tackle shops. They will be moreIce fishing for perch con't .. than happy to give you the information, and this has often saved the day for myself. Another key is to look for the huts and crowds of anglers. Hut operators are in the business to make money, so you know their huts, and paying customers, will be in the vicinity of the fish. Finding these areas can definitely pay off big.
Tactics
The first thing to do, once you arrive on the ice, is to start drilling holes. Drill a half dozen holes in a zigzag pattern over an area that covers approximately 30 yards, and start fishing hole number one. Begin the day with a small spoon, ( tipped with a small shiner or maggot ), or a small tube jig. Try to work all areas of the water column, from a foot below the bottom of the ice, to inches off the bottom of the lake. What you are searching for with these faster-moving presentations are the active fish, which will show you the location of a school. If after five or ten minutes you still haven't connected, then move to the next hole to see what's down below. Once you've caught a few fish from a hole, it's time to slow down your presentation, and also set up a secondary line, which will be your tip-up.
The best placement for your tip-up is approximately five to 15 yards from your primary jigging hole. This will be set up close enough to get to quickly, and will also be in the vicinity of the school you located. If the action starts to die down in the area that you're fishing, it's simply a matter of moving outwards until you connect with the "migrating" school. Three winters ago this scenario took place, and became one of my fondest fishing memories ever. I was fishing the famed Lake Simcoe in early February, with my two good friends, Scott Fleming and Jason Jones. The weather was glorious, and, in fact, enabled us to fish in just our t-shirts! After the first few holes were cut, we hit pay dirt. Jumbo after jumbo perch were flopping on the ice, and we really had our hands full. At times, all three of us had fish on at the same moment, not to mention our tip-ups being pulled down. However, as soon as the action started it would die down, and we would work our way outward to locate them once again. It didn't take more than a few holes, and we were knee-deep in fish again. At day's end our smiles told the tale; a bucket of tasty perch, sun-tanned faces and a whopper of a fish that evened the scales out at one-and-a-half-pounds! Who says ice fishing isn't fun?
Equipment
For jigging purposes, any good quality, light action rod will do the trick. These will usually be between 18 and 24 inches long and must have a sensitive tip. (This will be necessary in order to work the light-weight lures to their up most effectiveness.) A quality ice rod of this style can usually be found for less than $30. Match this with an ultra-light reel with a smooth drag, and spool it up with two to six-pound-test monofiliment. Use two-pound-test if you are using extremely small baits or if the fish are really finicky. If there is a healthy population of walleye in the lake, it may be best to use six-pound, just in case you hook one of these larger predators. I've found that four-pound-test has worked best for me, and is strong enough, yet also supple enough, for perch.
Any of the standard tip-ups will do for perch fishing, as long as they are smooth and sensitive. Many people even use a simple willow-branch, with line attached to one end, out on the ice. Tip-ups are very inexpensive and can be made quite easily from a few pieces of wood. The most effective presentation to use with a tip-up is a spreader rig, which, quite simply put, is a heavy weight attached to your main line, and two or three single hooks spread out from your main line, one to three feet from the bottom. Attach a lively one to one-and-a-half-inch shiner or pinhead minnow through the back, just below the dorsal fin, and you're on your way.
There is a myriad of lures for perch fishing out on the market, but my best advice is to purchase a half dozen or so, and see which ones work best out on the water. Some of my favourite lures that have produced for me in the past, are any of the spoons in the 1/32 oz. to 1/8th oz., such as the rocker minnow, walleye hawger or rat finkee. Tube jigs in bright or natural colours, in the above mentioned sizes, can also be dynamite, as can the swimming rapala jigs. Experiment with size, colour and tipping options, (shiners, maggots, meal or wax worms), and sooner or later you will ring the dinner bell. Sometimes the simplest presentation can be the key, and often times I've produced dozens of fish with a small hook and shiner, slowly jigged up and down. Let the fish dictate what they want, and do not be afraid to try new and different things, in order to limit out.
As you can see, ice fishing for perch is a wonderful way to spend a winter afternoon. By following through with these tactics and techniques, you'll be on your way to becoming a successful perch fisherman, and will start to appreciate that winter is not the end of the fishing season, and that putting the boat away, is just the beginning to a new angling experience. Have a great ice season and be safe out there.